Director and Director of Photography
Demo Reel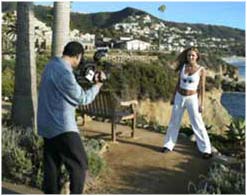 [ View Movie

]
May take more than a moment to load. 72.23 Mb


Director:
"Steps," in pre-production (Made for TV movie).
A WorkingActorsGroup project. (2005)

Director / Director of Photography / Editor:
"Women Warriors - Continuous Sparring"
A Pepper Jay Production in association with Lyle Howry Productions.
One of 6 one hour cable specials. 2005

Director / Director of Photography / Editor:
"A Faery Hunt"
Debbie Rothstein executive producer. Producer Pepper Jay.
Promo for children's play. 2004
AFaeryHunt.com

Director / Director of Photography / Editor / Musical Score:
"Hercules In Hollywood"
(40 minute short)
Eagle Eye Pictures in association with Pepper J. Productions and Talk of the Town Productions
Los Angeles, California 2003
ShootAscene.com

Co-Director / Director of Photography / Co-Editor:
"Being Beautiful, Inside & Out" (How to be a Model Industrial / Instructional Video)
amc Productions - Ann Marie Crouch producer, Los Angeles, California 2004
AnnMarieCrouch.com

Director / Director of Photography:
"Wings For Greyhounds" (TV episode for "Animal Magnetism, W Network)
Big Coat Productions producer, Toronto, Ontario 2003
Pepper Jay, Field Producer

Director / Director of Photography / Editor:
"Tana, Behind The Scenes; from Russia to Hollywood" (Documentary)
Andrey Shalubin producer, Moscow, U.S.S.R. 2002
Pepper Jay, Field Producer

Director / Director of Photography/Editor:
"The Last Star" Starring Francine York and Carly Oates
(One of numerous scenes for actors'reels)
Pepper Jay producer, Hollywood, California 2002
ShootAscene.comSample Actor's Reel Scene

Director / Director of Photography:
"The Road Studio Across America" (TV Pilot)
Klay Schrodel producer, Burbank, California 2002
The People Involved
Demo Pilot


Director / Director of Photography / Editor:
"Dream Analysis - The Easy Way" (Demo Pilot)
Dr. Donna Dannenfesler, producer, Smithtown, New York 2001
---
Still and Video Photographer
Samples of John's still photography (portrait, fashion and event):
ImagesByFerrari.com
Movie posters, i.e., Redemption:
photo by John Michael Ferrari for Agenda Pictures
CD covers, i.e., Live Sessions:
Photo: John Michael Ferrrari for Laura Martin.
and
I.e., Minor Matters:
Photo: John Michael Ferrrari for Peoples Republic.
Official Photographer for numerous companies and organizations including
ArtiStor Gifts, Wilshire Bar Association, USA Internationals Martial Arts, to name a few.
---
John Michael Ferrari - Actor and Acting Coach
(SAG, AFTRA)
1993 - 2005 John co-hosts the Working Actors Group.
A working actor, himself, Acting Resume, John enjoys teaching song performance and acting skills
almost as much as he enjoys entertaining and acting. His students and co-actors appreciate John's talents and sincerity.
For coaching info: Dynamic Performance - JohnFerrari.com
---
MUSICAL FILM SCORES BY JOHN MICHAEL FERRARI
"Fantasy Girl", (Independent Short) Directed by John Robert Palacio. Pepper Jay, Producer.
SUFFERER - A SURVIVOR PARODY (Independent Short)
Palacio Productions or see short on IFILM
John Robert Palacio, producer, New York, New York 2001


"SUFFERER" is a sharp and hilarious swipe of the TV phenomenon "Survivor" and a sendup of reality TV as a whole.
SUFFERER was described as "A Satire Success Story" -- TV GUIDE (October 7, 2000),

was "Editor's Pick" on Undergroundfilm.com, and was featured in Forbes Magazine.
Also for Palacio Productions, John wrote the original score for the film, "Waiting For The Knock"

and the popular film short, "Offline"

,
which was the "Official Selection" at the Big Bear International Film Festival (2000).
Musical Score: "Fantasy Girl"
(Independent Short)
Pepper Jay, producer, Hollywood, California 2001
Composer: "Run"
(Music Video)
Pepper Jay, producer, Hollywood, California 2000
---
Short Biography of John Michael Ferrari and His Music

A young John Michael Ferrari bought his first guitar in 1962, along with a "How To Play Guitar" book, both from Sears, Roebuck & Co. Since, music has been an integral part of John's life! Writing it, singing it, and sharing it with audiences bi-coastally. This passion for performing and writing music has been the foundation of John Michael Ferrari's career as an entertainer and composer. Who would have thought a lifetime in the entertainment business would have begun with "Tom Dooley"?
During the 70's, John begain writing musical jingles for radio commercials. As a songwriter, his "Dustoff", penned by Ferrari while serving in the United States Army in Viet Nam, has been a favorite among Veterans over the years.
---
Ever The Entertainer

John Michael Ferrari, the cabaret performer, still entertains and "wows" music and dance lovers across the country from the Playboy Mansion to the Farmers Markets. A real class act, John and his band or orchestra "Ferrari & Friends" perform nostalgic tunes from the 30's to the 90's, soft rock, ballads, and show tunes. Ferrari appreciates a loyal following of "Ferrari Fans" and they enjoy him!
And the press says:
The Los Angeles Times reported that John Michael is "reminiscent of Sammy Davis Jr or the early Bobby Darin".
(July 9, 1993)
The Tolucan called our Johnny Ferrari a crooner with a "smooth as silk" voice.
(September 6, 1995)
and Back Stage West recently described him as a "Survivor In The Spotlight"
(September 2001).
---
Always The Good Samaritian
John continues to share his talents with many charity events and good causes, including:
International Myeloma Foundation (2003), The Thalians Ball (1995-2002), Our House (1999-2002), the Jonssen Cancer Center (2001-2002), Save Ballona Wetlands (2002), to name but a few.
John also considers industry and community service important, involving himself in such endeavors as the National Cable Ace Awards (Fall 1997) and the Homeless Veterans Association (1996 - 2003).
Easy to get along with, it has been my absolute pleasure working with
John Michael Ferrari. I admire his creative talents, humor, and ability
to enjoy the moment.

By Pepper Jay
---
LINKS
Email John Michael Ferrari

updated August 2005